Skip Navigation
Website Accessibility
Yamaha U1TA2 TransAcoustic
Yamaha TransAcoustic is unlike any piano you've ever heard. A true acoustic piano that uses its soundboard to naturally amplify digital sounds, turning your instrument into the world's most incredible acoustic speaker. Transform your acoustic piano into a Yamaha or Bösendorfer concert grand, an electric piano, harpsichord, organ and more. Then record a track and play along on your acoustic piano. TransAcoustic stretches the imagination and opens up a new world of possibilities.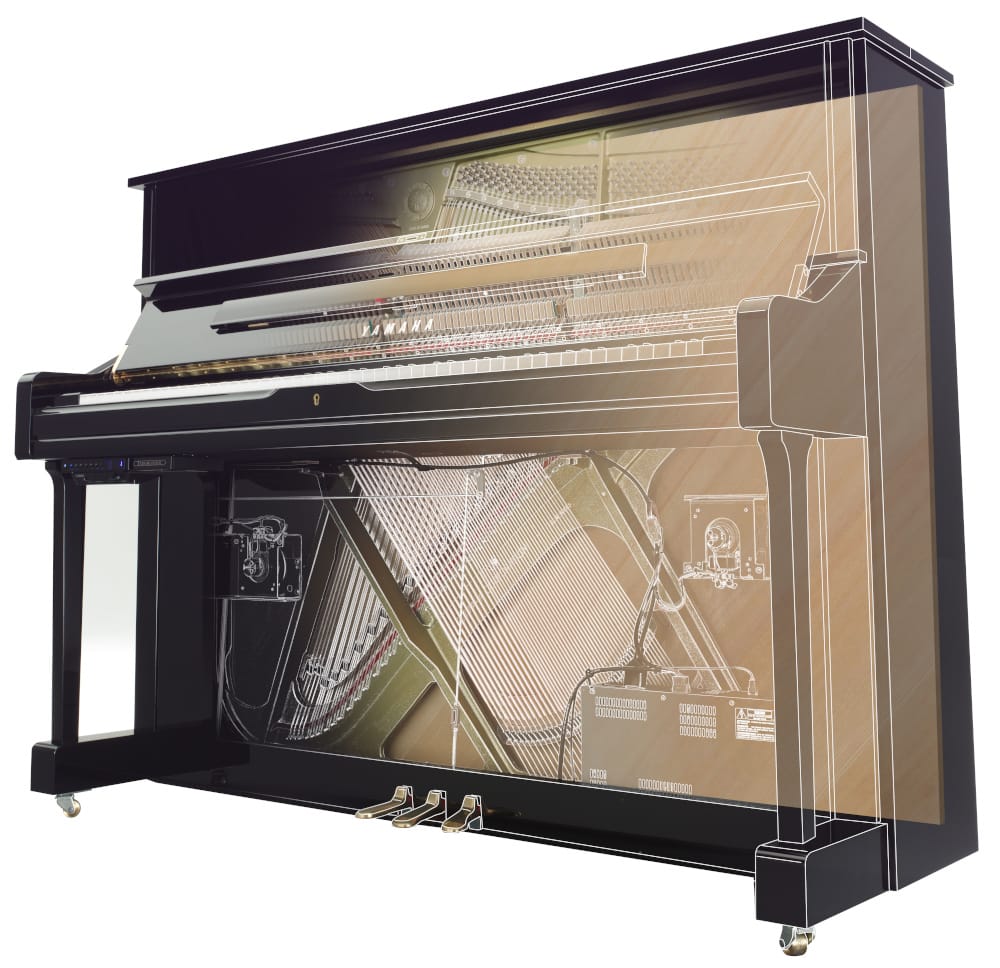 TA2
Fully integrated TransAcoustic system Patented dual-transducer technology Non-contact optical sensor system Key Sensor type: Continuous grayscale Hammer Sensor type: Shutter type Damper Pedal Sensor type: Continuous grayscale Shift/Soft Sensor type: On/Off detection system Sostenuto Sensor type: On/Off detection system (for models with sostenuto) Motorized muting system with Quick Escape mechanism (grands only) 20 playable digital voices Binaural CFX Concert Grand voice for headphones 480 ensemble voices with 12 Drum Kits 256-note polyphony Recording formats: Standard MIDI, Audio WAV Supported file formats: Standard MIDI, WAV Compatible storage media: USB Flash Memory (up to 64GB) MIDI connectivity: 5-pin MIDI IN/OUT, USB TO HOST Audio connectivity: Stereo audio IN x1 (mini stereo), analog audio OUT x 2 (TS), Bluetooth Headphone connectivity: 1/8" mini stereo x 2 Data connectivity: USB TO DEVICE x 1, UD-WL01 (WiFi) Smart Pianist app compatibility Available models: U1, YUS1, YUS3, YUS5, GC1, C1X, C3X




YAMAHA U1 PROFESSIONAL UPRIGHT
Designed for the experienced pianist and professional musician, Yamaha U1 upright pianos are made in Japan and feature outstanding tone, touch and durability. A perennial favorite among discerning pianists, U1 upright pianos offer outstanding musical performance, setting the standards by which many other upright pianos are measured.

Thanks to comprehensive redesign, these world-standard instruments are better than ever, with numerous advances in materials and construction. Refined scale designs and components improve tonal performance, while other modifications enhance strength and durability. Extra-wide music desks provide plenty of room for sheet music. Concepts adapted from Yamaha grand pianos translate to extraordinary standards of excellence and elegance.
---
Refinements in all elements of sound production have given today's U series a richer , more resonant voice with evenly balanced timbre across the entire keyboard.
---
Soundboard and Frame
Special rib configurations add strength to the soundboard, while back post and other advances further enhance rigidity, resonance and structural stability.
---
U Series hammers use materials specifically selected for each model to provide optimum tone production, response and long-term durability.
---
A damping mechanism, formerly used only in grand pianos, prevents the fallboard from dropping abruptly onto the keyboard, guarding against accidental injury or damage.
Specifications

Soundboards:
Spruce
Soundboard Ribs:
Spruce
Back Posts:
5 - Spruce
Bridge Construction:
Two-piece separated
Wood seasoned for destination:
Yes
Frame:
V-Pro Vacuum Shield Mold Process
Key material:
Seasoned spruce
White Key surfaces:
Acrypet™
Black Key surfaces:
Phenolic Resin
Fallboard:
Soft close
Fallboard lock:
Yes
Pedal
Soft/Mute/Damper
Caster:
Single-wheeled
Height:
48"
Width:
60"
Depth:
24"
Weight:
503 lbs